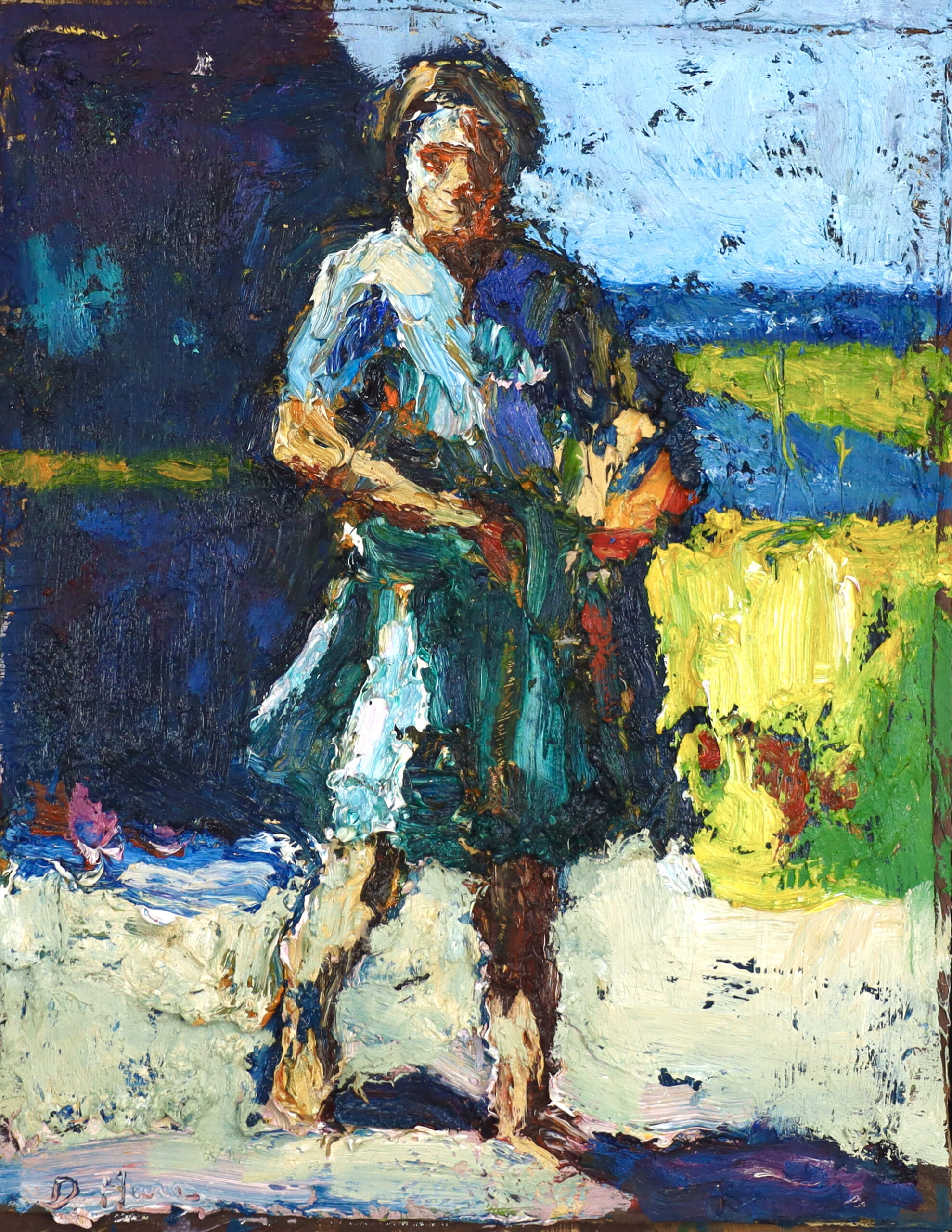 Dennis Hare - Standing Figure
Dennis Hare painting of a female figure.
Dennis Hare, (1946- ), is a Colifirnia abstract figurative painter known for his expressive and brightly colored paintings.
Hare was born in Glendale California to a photographer/writer father, and a mother that was an interior designer.  Both of Hare's grandparents were artists.
Hare was raised in Southern California, and his family kept a small cottage in a small coastal town in Mexico where spent months of seclusion painting.
Hare exhibited artistic promise early on in his life, but resisted encouragement and instead focused his passion on sports.  Hare was an accomplished volleyball player and in 1974 won the World Beach Volleyball Championship.  He was later inducted into The Beach Volleyball Hall of Fame.
Hare wrote a  book titled 'The Art of Beach Volleyball'.  While illustrating the book, Hare began sketching and painting in watercolors. It was during this time that he attended an exhibition at the DeYoung Museum and was greatly influenced by Vincent Van Gogh's 'Entrance to the Public Gardens at Arles'.  Hare then made a conscious decision to devote his life to creating art.
Hare became a member of the National Watercolor Society in 1984, and in 1987 he returned from Mexico.  He gained encouragement from fellow California artist Millard Sheets, and began to paint in oils.  Hare then traveled to Europe, Amsterdam in particular, to study as many Van Gogh's works as he could see, as well as other European masters.
This work, an outdoor portrait of a lone female, is filled with bright California sunlight which infuses many of Hare's paintings.
It is signed lower left, and signed and dated verso.
From the estate of a California collector.
Dated 2003
Measures 14.5 x 11 inches sight size, and 15.5 x 12.5  x 2 inches overall including the framing.
RECENTLY SOLD