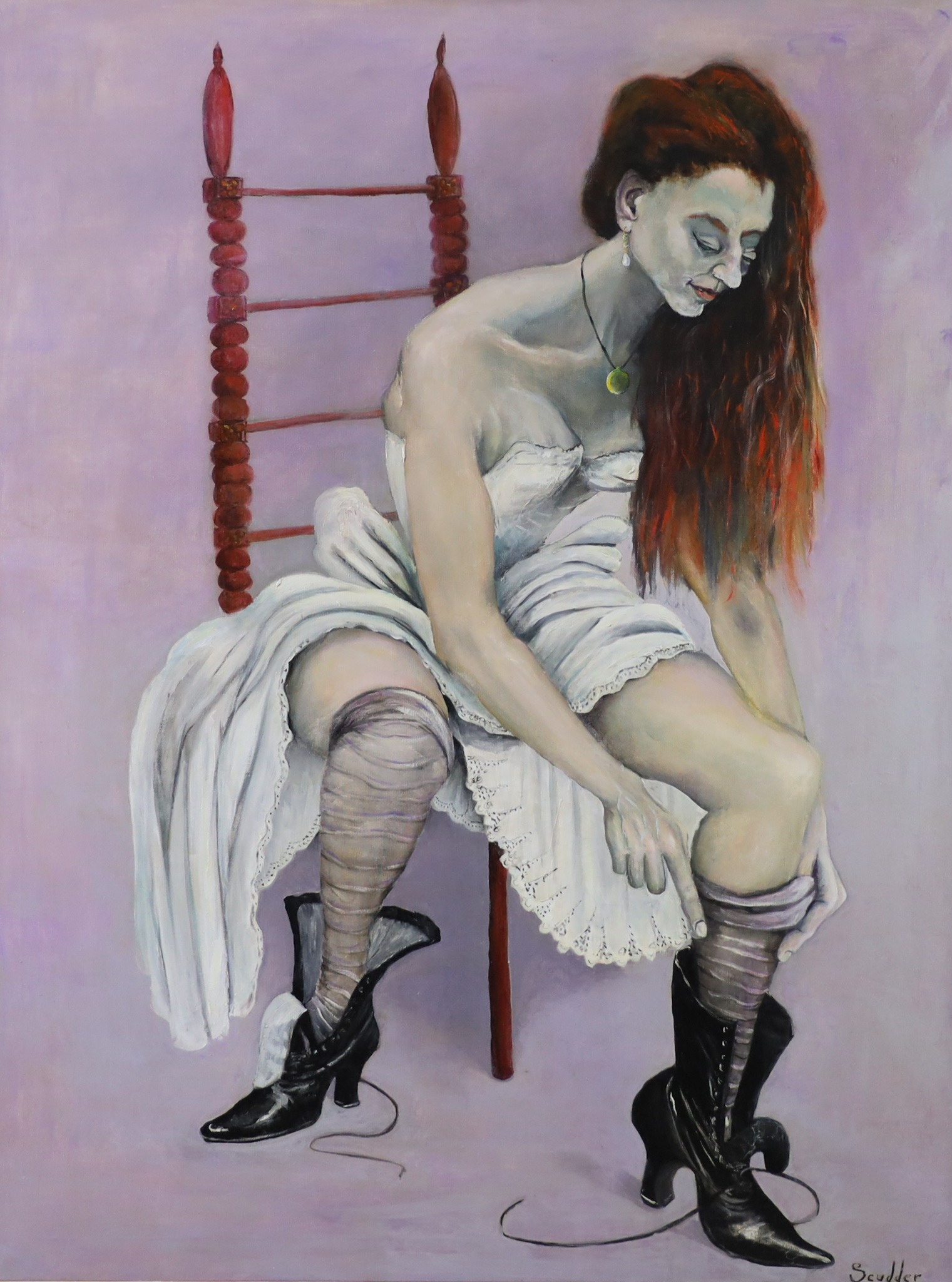 Janet Scudder - Portrait of Peggy Guggenheim as Dominatrix
Large oil painting on canvas by Janet Scudder, titled 'Dominatrix' – 1935
Janet Scudder, 1869-1940, was an American sculptor and painter from Terre Haute, Indiana, who is best known for her award-winning sculptures, many of which are held in public and private collections around the world.  Scudder received her art training at the Art Academy of Cincinnati, the Art Institute of Chicago, and later in Europe at the Académie Vitti and the Académie Colarossi in France.  Besides being a prominent artist of the late 19th and early 20th century, Scudder was also very active in the advancement of women's rights and a prominent participant in the Women's Suffrage Movement.  Scudder was a frequent traveler and maintained two homes/studios; one in New York and another in Ville d'Avray, France, on the outskirts of Paris, where her social circle included leading feminist figures Gertrude Stein, Alice B. Toklas, Mildred Aldrich, and Eva Mudocci.
This painting was created at Ville d'Avray in 1935 and possibly depicts fellow Parisian Peggy Guggenheim.
The work is titled 'Dominatrix'.
Scudder turned to painting and color theory late in her career and is known to have painted at least one other boldly colored portrait of Guggenheim.
Oil on stretched canvas.  Recently cleaned.  Two small repairs to the back of the canvas, (see images).
Housed in a new, custom silver gilt frame.
Measures 43.5 inches by 33.25 inches sight size, and 49.5 inches by 39.5 inches by 1.5 inches overall including the frame.