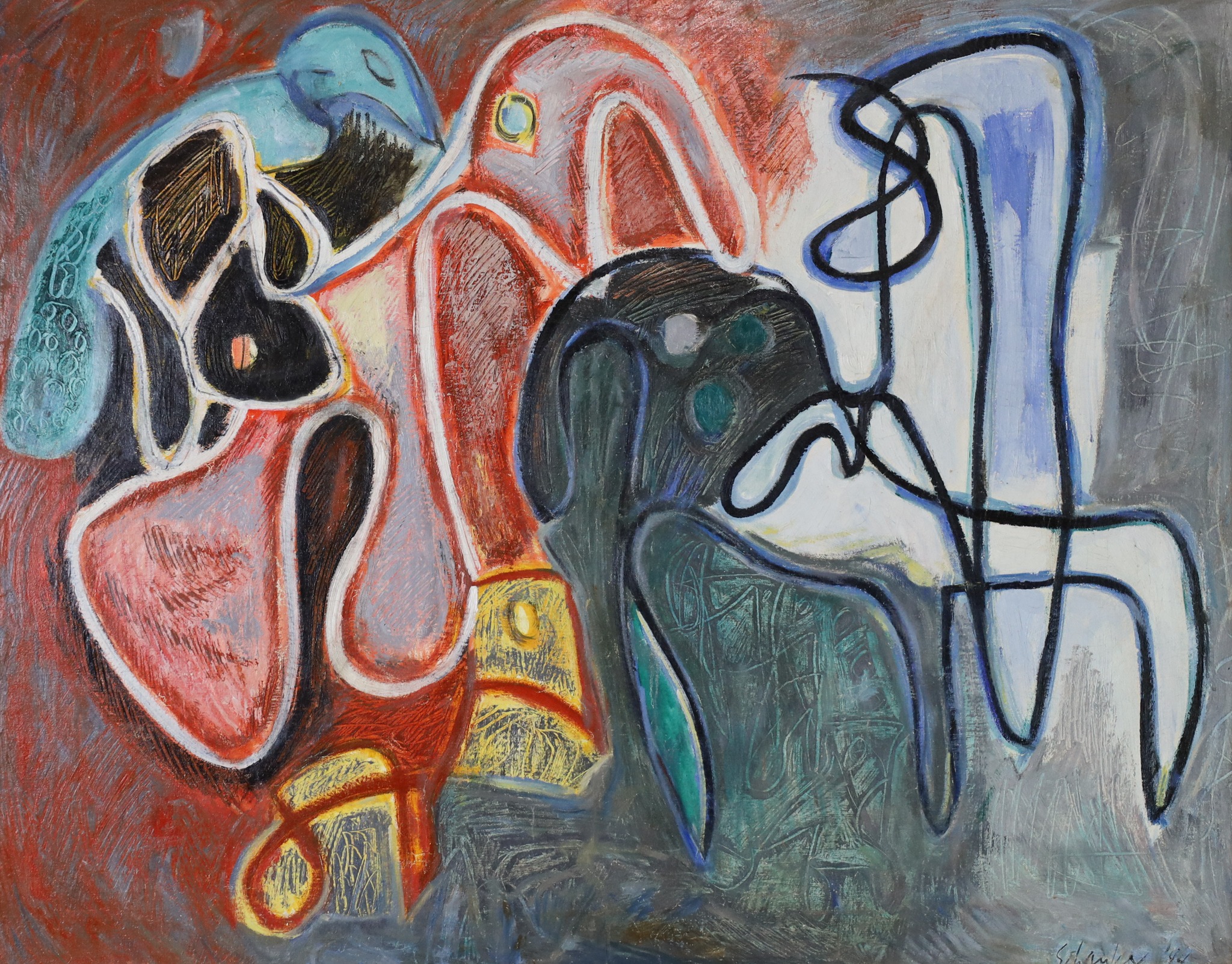 Louis Schanker - 1944
Large oil on canvas dated 1944.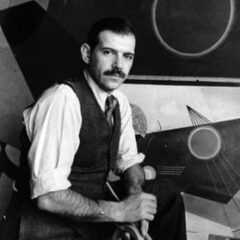 Louis Schanker, (1903-1981), lived and worked in New York City and later Connecticut, creating modern paintings, sculptures, and prints.  During his life, Schanker was known as a radical among radicals veering away from current trends to focus on his own styles of abstraction.
Born in 1903, Louis Schanker quit school as a teenager and joined the circus. He later worked in the wheat fields of the Great Plains and hopped boxcars to ride the rails around the US.  In 1919 he moved to New York City and began studying art. In 1931 and 1932 Schanker studied art in Paris and traveled through Europe. Schanker returned to New York City in 1932 greatly influenced by the cubist works he was exposed to in Europe.  While in New York Schanker became a muralist and graphic arts supervisor for the WPA and a founding member of The Ten, aka The Whitney Ten, a group of avant-garde artists formed to protested the lack of support for American abstract artists by the Whitney Museum of art, which at the time concentrated on representational art.  In 1936 Schanker co-founded the American Abstract Artists group, (AAA), whose purpose was to promote and foster public understanding of abstract art in America.
Louis Schanker was known to be playboy by some accounts, including those of fellow abstract artist Mark Rothko, but as years went on Schanker settled down and in 1960 he married actress, musician, performer, and fierce champion of social causes Libby Holman.
Libby Holman was of Jewish descent, and in the 1930s she had teamed up with African American folk singer Josh White. White and Holman became the first mixed-race duo to create music, perform and tour together in the United States.  White and Holman produced record albums and made a film together.  It was during her time traveling with White that Holman got to see firsthand the prejudices faced by blacks in America.
Experiencing social injustice firsthand drove Holman to dedicate her time and money to social cause, and, in 1959, due to Holman's generosity, a young preacher from Georgia named Dr. Martin Luther King Jr. and his wife Coretta were able to travel to India to study firsthand the non-violent techniques espoused by Mahatma Gandhi.  King was always grateful to Libby for giving him this opportunity. Libby Holman and Louis Schanker went on the hold fundraising events for civil rights at their East Hampton home during the 1960s. Dr. King, his wife Coretta, Libby Holman, and Louis Schanker would remain lifelong friends.
This abstract painting is an oil on canvas.
Signed and dated lower right and is in good condition.
Measures 27.5″ x 35″ sight size, and 32″ x 39.5″ x 1.5″ overall including current framing.
Click on price to purchase or inquire.