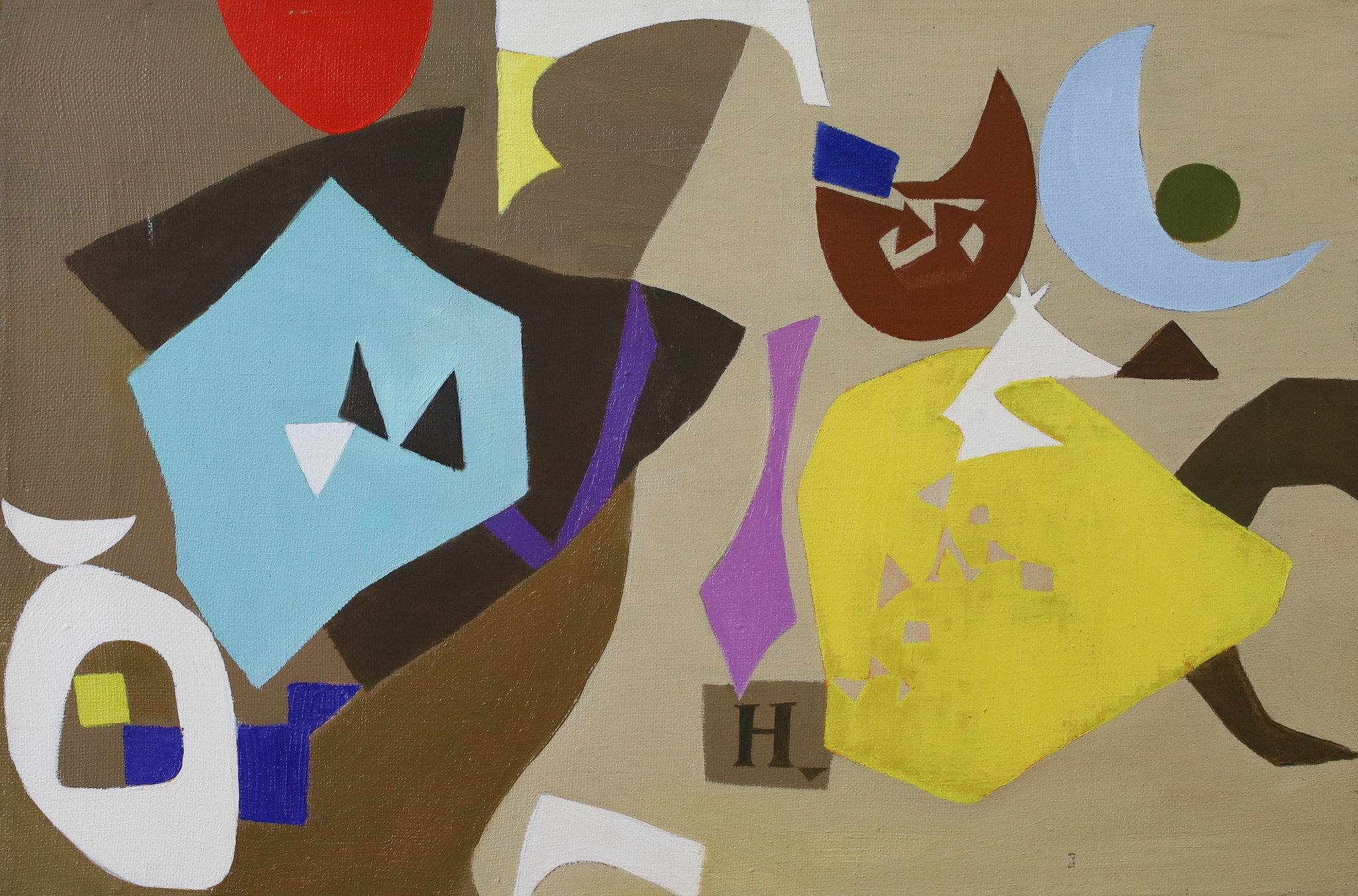 John Hansegger - 1930s
1930s abstract oil painting by John Hansegger.
John Hansegger, aka Hans Egger, John Konstantin Egger, 1908-1989, was a Swiss-born modernist painter.  Hansegger was educated in Europe and had his first one-man show in Switzerland in 1928. He later joined the Kunstler-Vereinigung in Munich, Germany in 1933 where he participated in several exhibitions. In 1937 was in Paris, France where he joined other noted painters of the Surindependents movement including Paul Klee.  Also in 1937, Hansegger joined the Confederation of Modern Swiss Artists in Zurich, known as 'Allianz'.  Allianz was an important group of forward-thinking modernists advocating the ideas of 'concrete art'.  The group remained active and exhibiting through the 1950s and included such avant-gardes as Paul Klee, Le Corbusier, Gérard Vulliamy, Kurt Seligmann, Max Bill, Leo Leuppi, Sigfried Giedion, Walter Bodmer, Camille Graeser, Richard Paul Lohse, Sophie Taeuber-Arp, and Verena Loewensberg.
In 1942 Hansegger opened Des Eaux Vives Gallery, which showed many of the most prominent modernist artists of the time including Wassily Kandinsky and Paul Klee.  Hansegger closed Des Eaux Vives Gallery in 1947.  While living in Switzerland Hansegger also ran an art publishing house in association with his gallery.
In the late 1940s, Hansegger began touring the world visiting Japan, Ecuador, and the United States where he settled permanently.
During his career, Hansegger painted portraits, including portraits of many famous personalities like Pablo Picasso, Sigmund Freud, Albert Einstein, Lotte Fuerstenberg-Cassierer, Dwight D. Eisenhower, Nelson Rockefeller, Princess Dinah of Basutoland, and  Arturo Toscanini.
This work is from his concrete art period of the 1930s and is an oil on stretched canvas.
Great condition.
Measures 12.5 inches by 18.75 inches by 1 inch including the frame.
Click on price to purchase or inquire.