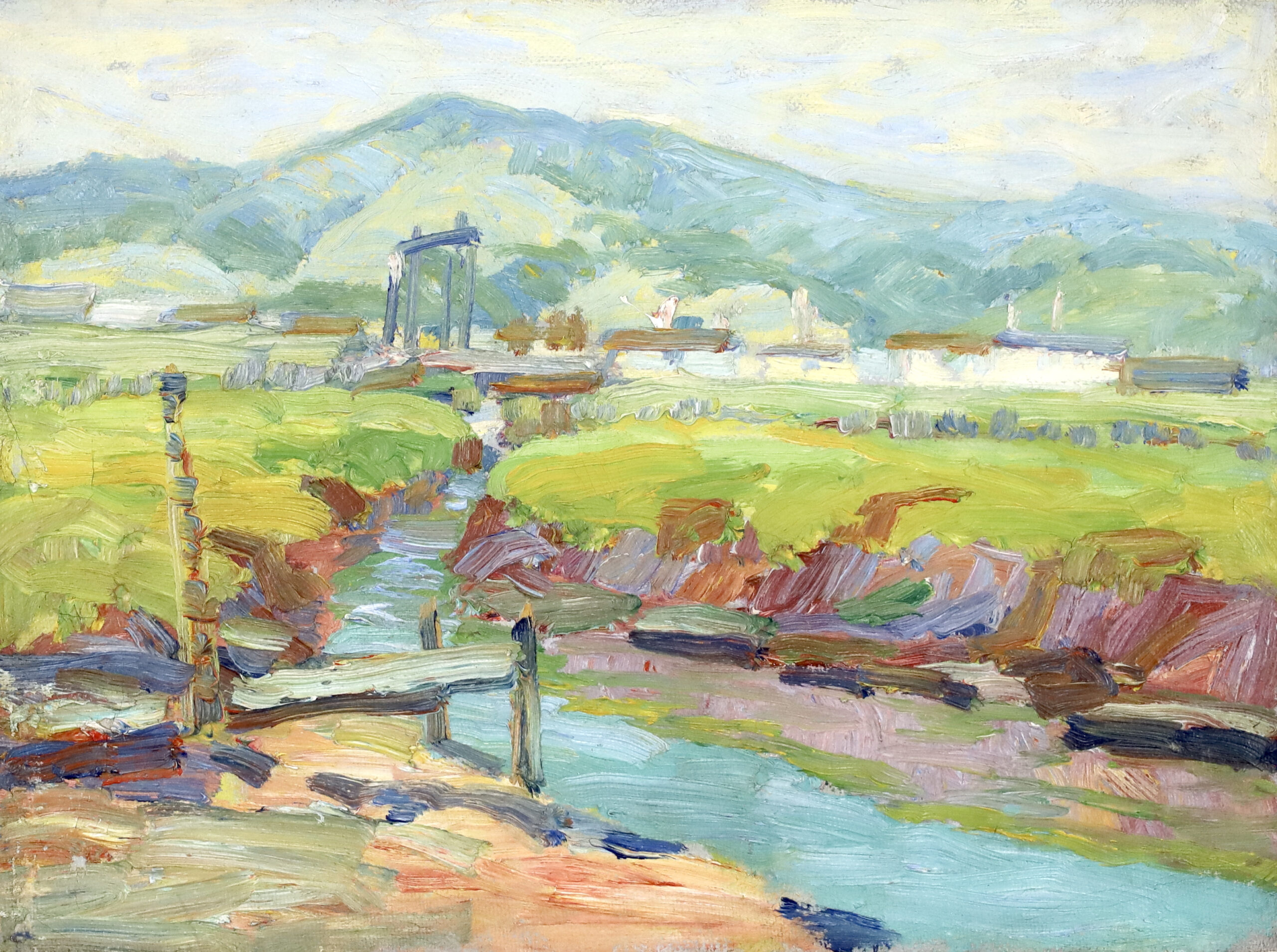 Selden Gile - 'Napa Slough'
Selden Gile – 'Napa Slough' – Oil painting
Selden Connor Gile, (1877-1947), was the driving force behind a radical group of artists active in northern California in the early 20th century, The Society of Six.
The Six, which consisted of Gile, Maurice Logan, William Henry Clapp, Bernard von Eichman, Louis Siegriest, and French born painter August Gay, rattled the then tranquil Bay Area art scene with the their radical style.  Breaking away from the academic, tonalist styles being espoused by the leading artist at the time in San Francisco, The Six applied impressionist and fauvist colors and theories and coupled them with a full embrace of California sunlight landscape to produce dazzlingly bright and cheerful paintings.
Gile was a rugged free spirit with a thirst for life.  Borrowing $50 from his brother, Gile left his home and family in Maine and crossed the continental US for a job in Rocklin, CA where he was paymaster and clerk for a large ranch.  This job was a dangerous one, requiring him to carry a gun to defend himself, which he had to do one than once, to deliver payroll from the bank to the ranch.
Moving down to the Bay Area Gile connected with forward thinking artists and personalities, including author, Jack London.
Gile and his friends were in the East Bay area, isolated from artistic mainstream of the San Francisco Bay Area at the time, and, after experiencing the modern art trends they saw at the Panama Pacific International Exposition,held in San Francisco in 1915, Gile and his five fellow artist decided to form their own art group, naming it The Society of Six.  Together they painted outdoors, socialized, and exhibited together in and around Oakland, California in the 1910s and 1920s.
Giles' later years were spent living on a houseboat in Belvedere, CA near Tiburon where he continued to paint landscape, and harbor scenes that surrounded him daily.
It has been said that his childhood on a farm in Maine may have led to Gile's propensity to include a barn or building in some of his landscape paintings.
This painting is titled 'Napa Slough' and shows the sunny Napa estuary, with the wine country mountains in the background and a small building between. (a barn).
'Napa Slough' is a work on canvas, painted in 1925, and was in the collection of fellow Six painter Louis Siegriest.  It is likely that the two were on a painting trip together in the Napa area when this work was created. The painting was shown at the Oakland Museum of Art, and retains the label from that exhibition. That label identifies the painting being lent to the show by Siegriest.
Unsigned.
Exhibition labels verso.
Measures 11.5  x 15.75 inches sight size, and 15.25 x 19.5 x 1 inch overall including framing.
Great condition.