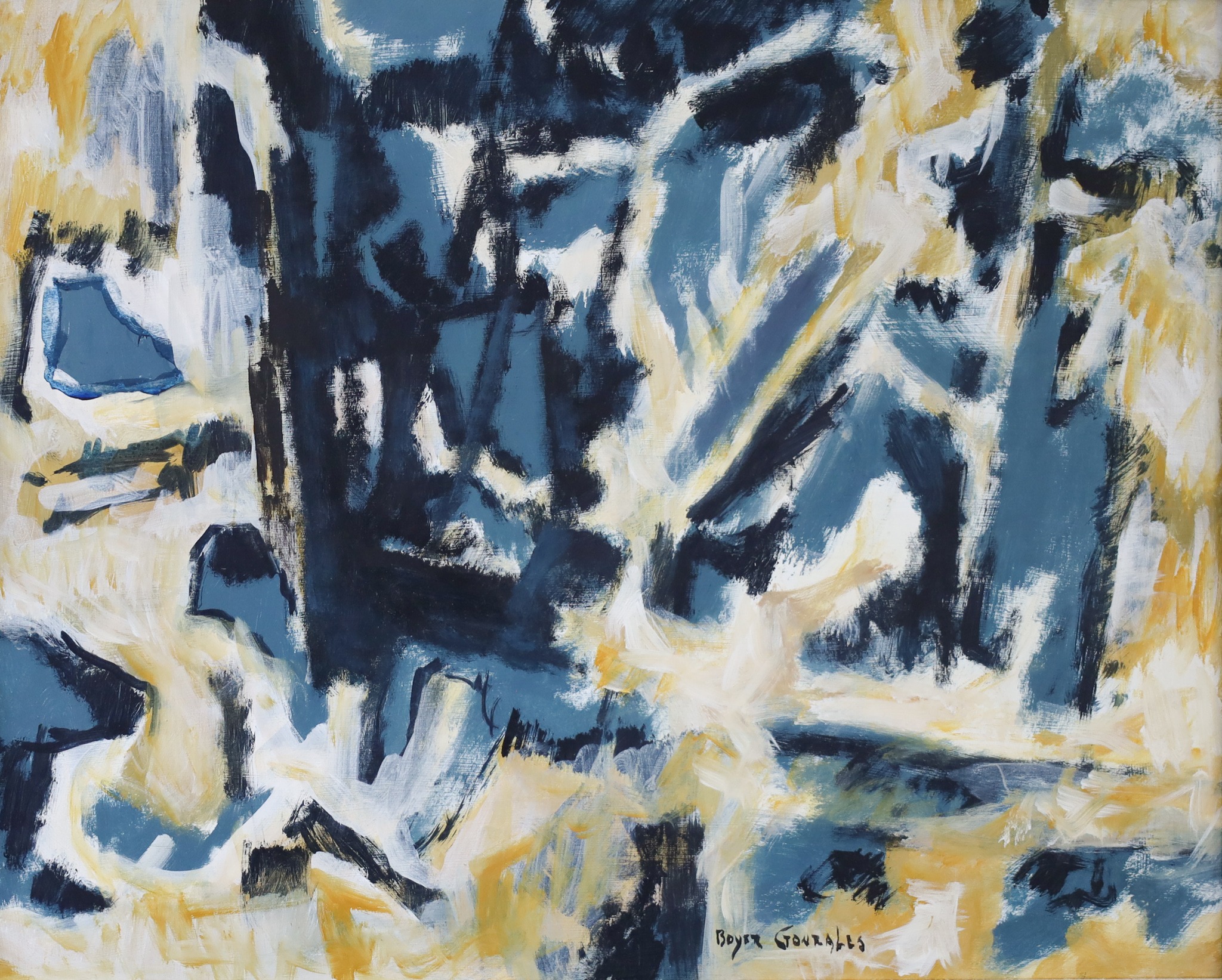 Boyer Gonzales Jr. - 1950s-60s
Abstract landscape by Boyer Gonzales.
Boyer Gonzales, (Washington, 1909-1987), was an American modern artist who worked in Texas, California, and Washington.
Gonzales was born in Galveston, Texas, and raised there and Woodstock, New York.
He studied at Mercersburg Academy in Pennsylvania, the University of Virginia, in Roanoke, with his father Boyer Gonzales Sr. a noted Texas artist, as well as with noted American modernists Henry Lee McFee and Yasuo Kuniyoshi.
In 1937 Gonzales moved to San Antonio, TX to assist McFee in establishing the Witte Memorial School of Art.
Gonzales taught at the school until 1939 when he accepted a position at the University of Texas, Austin. He went on to teach at the Chouinard Art Institute in Los Angeles in 1941.  From 1942-1945 Gonzales served in the United States Army Air Corps.  From 1946 to 1948 Gonzales taught at the University of Texas.  In 1954 Gonzales accepted a teaching position at the University of Washington, Seattle, and was the director of the Henry Art Gallery at the University of Washington. He served as chairman of the art department there from 1954 to 1966.  In 1979 he retired as Professor Emeritus.
This work is an oil on masonite and is titled verso 'Landscape with Gray, Blue, and Yellow'.
Measures 15.5 inches by 19.5 inches sight size, and 20.5 inches by 24.75 inches by 1.5 inches overall including framing.
Great condition.
Click on price to purchase or inquire.