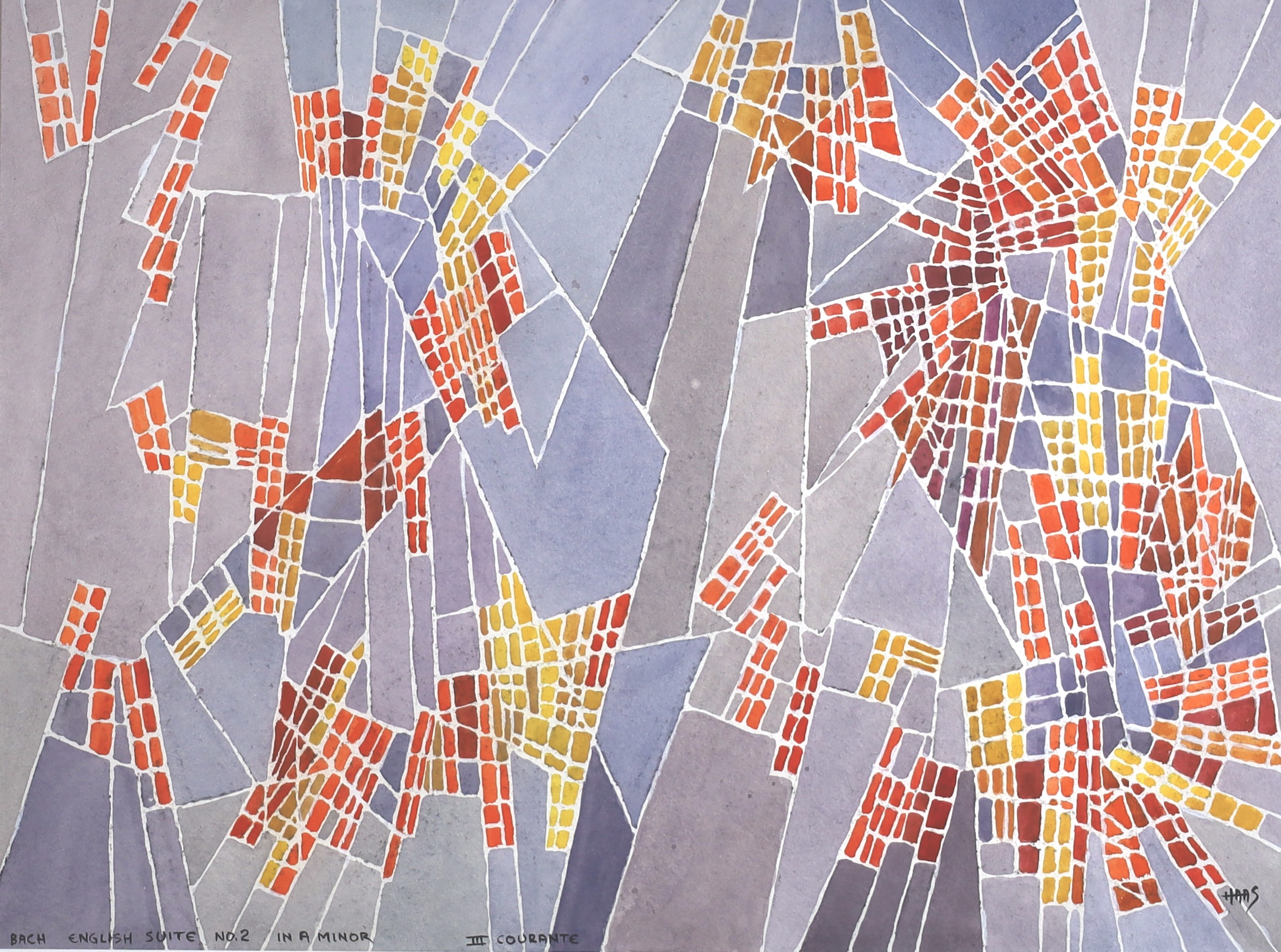 Hildegarde Haas - Bach English Suite No. 2 in A minor, Courante
Hildegarde Haas, (German/American 1926-2002), was an American abstract painter and printmaker who was born in Frankfurt, Germany.  
At the age of 11 her family moved to the United States, settling in Colorado Springs, Colorado.  While living in Colorado Springs Haas studied art at Colorado Springs Fine Art Center which piqued her interest in art and fueled her desire to dedicate herself to creating art.  
As a young adult Haas moved to Chicago, IL and studied at the University of Chicago before moving to New York City to further her career as an artist.   In New York Haas studied with highly influential American modernists, Vaclav Vytlacil and Morris Kantor at the Arts Students League.  
During her time in New York Haas became a member of The Printmakers, a prominent group of graphic artists based in New York.  
In 1953 Haas' woodcuts were included in a significant exhibition at the Museum of Modern Art titled 'Young American Printmakers'.  
Although very successful as an American printmaker in the 1950s Haas found the physical demands of printmaking too much for her body and she gave up printmaking after 7 years of work.  
Hildegarde Haas was among 83 artists profiled in 'Paths to the Press: Printmaking and American Women Artists 1910-1960', edited by Elizabeth G. Seaton and published by Beach Museum, Kansas State University.  
After giving up on printmaking Haas applied her creative energies on painting.  Haas moved to the sunshine of northern California in the 1950s and immediately became engrossed in the thriving San Francisco Bay Area art scene.  
In the Bay Area Haas became an active member of the San Francisco Art Association, the Oakland Art Association, and the Art and Crafts Co-op of Berkeley, while continuing to exhibit her works in national art exhibitions. 
Haas lived and worked in the Bay Area until she passed away in 2002.  
During her lifetime Haas exhibited in countless exhibitions across the United States.  Her works are held in the permanent collections of numerous institutions including the Museum of Modern Art, the Library of Congress, the City of San Francisco, the Seattle Museum of Art, the Dallas Museum of Fine Art, the Worcester Art Museum, and the Cleveland Art Museum.  
Synesthesia:  Throughout her lifetime Hildegarde Haas had a condition known as synesthesia.  
Synesthesia is a perceptual phenomenon in which stimulation of one sensory or cognitive pathway leads to automatic, involuntary experiences in a second sensory or cognitive pathway and in rare cases in multiple pathways.  
The word Synesthesia has it's roots in the Greek language, roughly translating to 'union of the senses'.  
Oddly there are some scholars that believe the entire pollution of Ancient Greece had synesthesia. 
The 'wine dark sea' is repeated many times in Homer's Iliad and Odyssey, in which Homer describes the Aegean Sea, (none more blue), as the color of wine.  
Some scholars argue that the Greeks experienced colors in a completely differ manner than a majority of our population experiences colors today.  
Many famous artists, poets, musicians and authors throughout history have had synesthesia including painters Wassily Kandinsky, and Vincent Van Gough, musicians Duke Ellington and Billy Joel, and writer and poet Vladimir Nabokov.    
Haas' form of synesthesia is known as 'projective synesthesia'.  With projective synesthesia Haas saw colors when experiencing audio stimulation.  
Haas employed this condition while creating the works offered in this exhibition.  While working in her studio Haas selected records from her classical music collection:  artists like Bach, Handel, and Beethoven; and painted what she experienced while indulging in the classics works by the classical era masters.  
Each of the paintings Haas created in her classic music series are titled for the exact musical work she enjoyed while creating the corresponding painting.  Titles like 'Bach – Suite No.2 in B Minor – Minuet – Badinerie', or 'Beethoven – String Quartet Opus 135 – II Vivace' are the result of Haas' synesthetic experiences. 
This work is titled 'Bach – English Suite No. 2 in A minor, Courante'.
Measures 19.5 x 22.75 x 1 inch overall, including framing.
Housed in a contemporary frame.
Click on price to purchase or inquire.