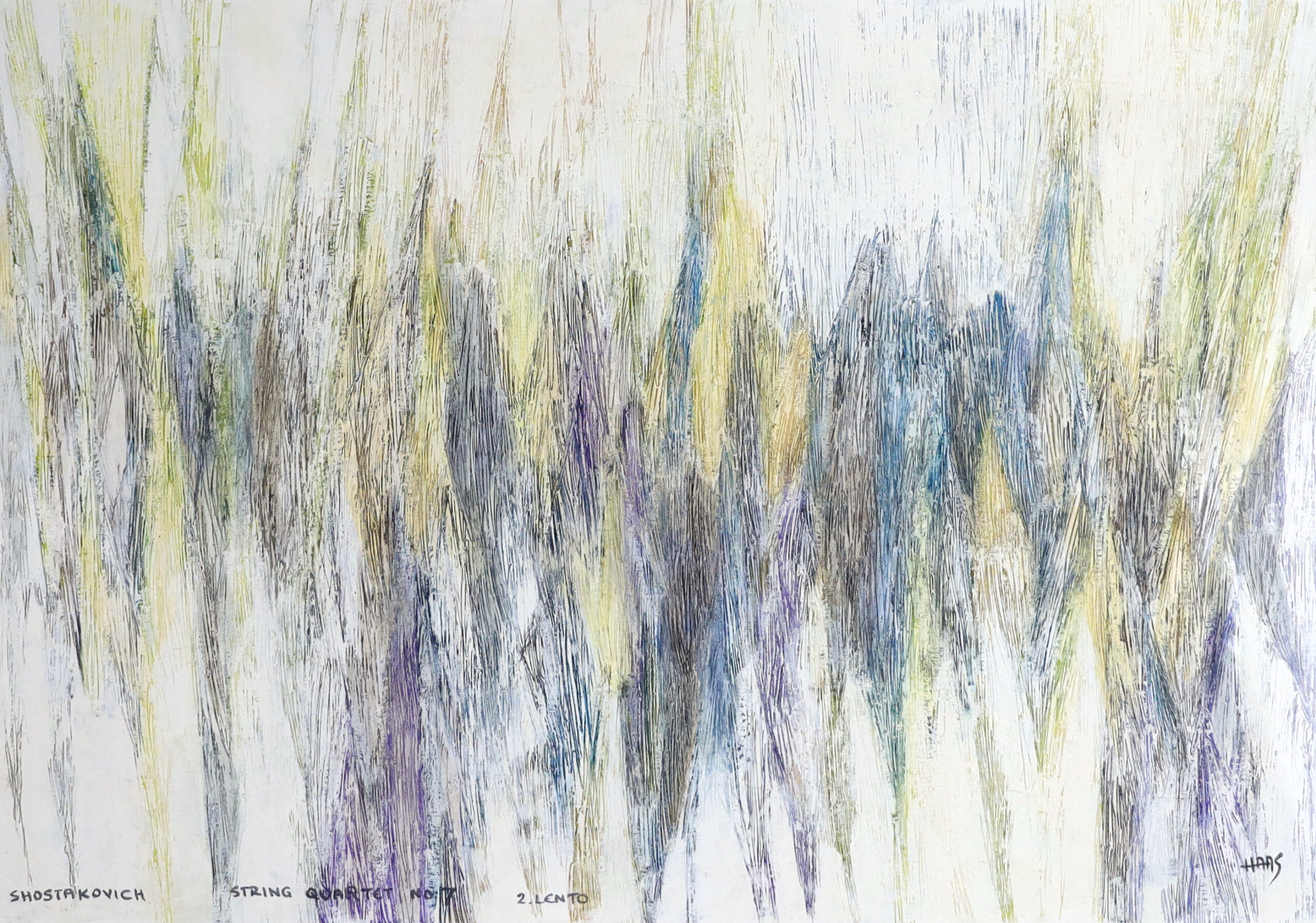 Hildegarde Haas - Shostakovich 'String Quartet No 7'
Hildegarde Haas – Abstraction
Hildegarde Haas, (1926-2002), was a German born American abstract painter and printmaker.
Haas was born in Frankfort, Germany.  When she was 11 years old the family moved to the United States, settling in Colorado Springs, CO.
As a young girl Haas studied art at Colorado Springs Fine Art Center which piqued her interest in the arts and drove her to dedicate her life to creating art.  As a young woman Haas moved to Chicago, IL and began studies at the University of Chicago.  She later moved to New York where she studied at the Art Students League in New York under Vaclav Vytlacil and Morris Kantor.
Haas was a member of The Printmakers, an established group of New York graphic artists. Her woodcuts were included in the exhibition Young American Printmakers at the Museum of Modern Art, New York in 1953.
Haas executed color woodblock prints for only six or seven years before the physical demands of blockprint making became too much for her and she gave up printmaking to focused on painting.
In 1951 Haas moved to the San Francisco Bay Area and became entrenched in the bustling Bay Area art scene.  She continued to exhibit nationally and locally.
Haas had solo exhibitions at the Dallas Museum of Fine Arts and the Kaiser Aluminum Corporation.  Her work is represented in the permanent collections of the Museum of Modern Art, the Library of Congress, the Seattle Museum of Art, the Dallas Museum of Fine Art, the Worcester Art Museum, and the Cleveland Art Museum.
This work is from her Classical Music Series, where she employed her condition of synesthesia to create compelling abstract paintings based on classical music pieces.
For more information on Hiledegarde Haas and her synesthesia click here.
Great condition.
Measures 13.75 inches by 19.75 inches sight size, and 21.5 inches by 26.75 inches by .5 inch including the frame.
Click on price to purchase or inquire.