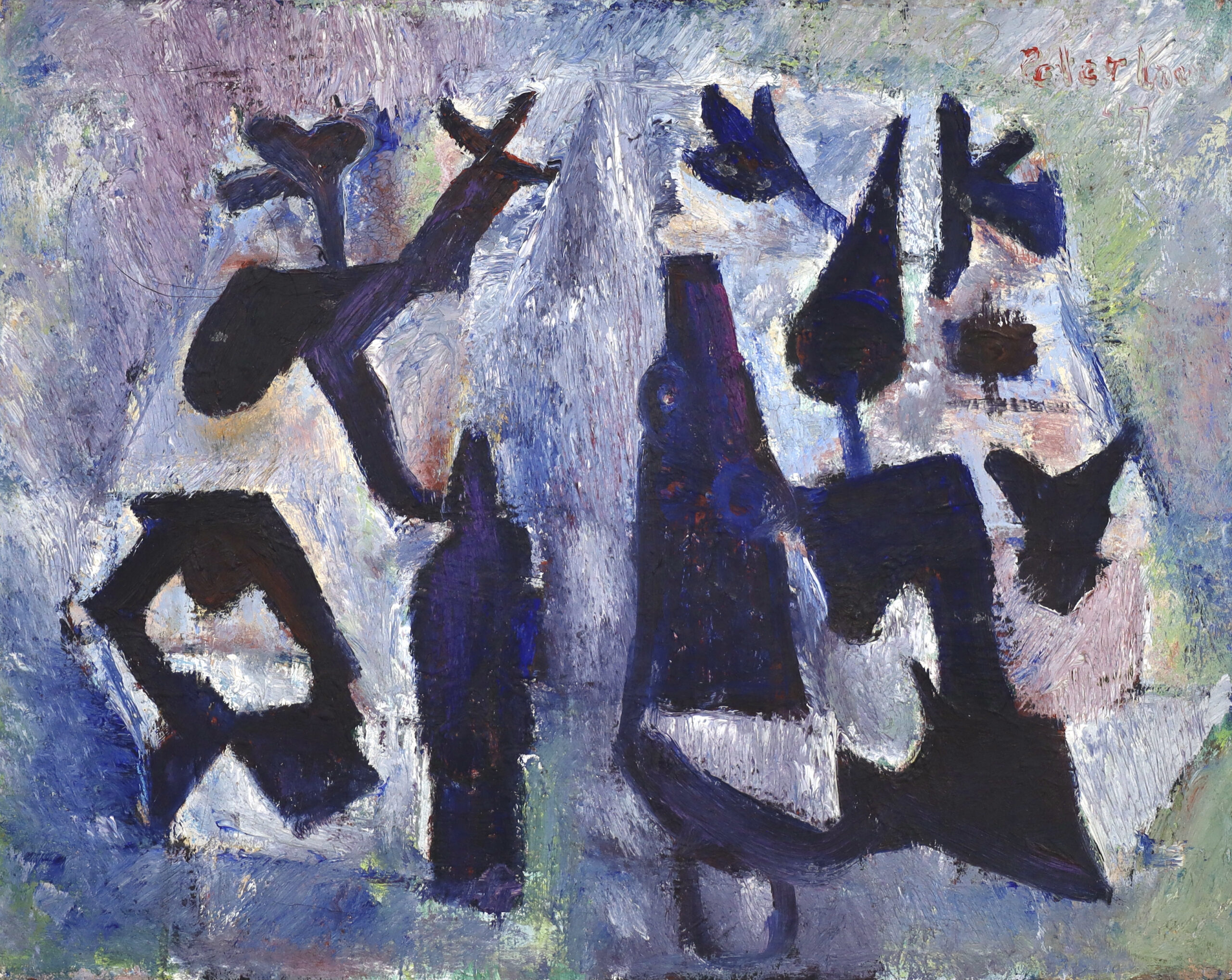 Peter Lowe - 1940s Abstract Oil Painting
Peter Lowe – 1940s Abstract Oil Painting
Peter Lowe, (1913-1989), was a Chinese- American abstract painter who lived most of his life in California.
Lowe was born in Los Angeles, CA in 1913.  When he was one year old his family moved to China where Lowe began studying calligraphy and sculpture with Buddhist monks at the age of six.
Lowe's family moved back to California and Lowe settled in San Francisco in 1930 where he enrolled in the California School of Fine Arts in San Francisco, CA. During this time Lowe connected with a group of Chinese-American artists and together they hired Otis Oldfiend as an instructor.
Lowe worked for the WPA along with Herman Volz, Robert McChesney and John Saccaro in 1939-1940.
Lowe was an elected member of the San Francisco Art Association in 1946 and exhibited at the Annual Painting and Sculpture Exhibition of the San Francisco Art Association in 1940, 1942 and 1945.  Lowe also exhibited with the Chinese Art Association in 1935-1942, the Oakland Art Gallery in 1938 and 1939, the Golden Gate International Exhibition in 1939, and the San Francisco Museum of Art in 1939.
While working as an artist Lowe also owned a garment factory with a friend. 
During WWII Lowe enlisted in the US Navy.  It is believed that experiences during this time caused Lowe much grief and disillusion and in the late 1940s Lowe destroyed most of his art, gave up the life of an artist and opened a grocery business in Oakland, CA.
This work is an abstract oil painting Lowe created at the very end of his career as an artist.  It is signed and dated 1947 upper right and was previously held in The Blair Collection and was exhibited in 2005 at the Laguna Art Museum in a show titled 'While Pollock was Sleeping : Bay Area Expressionism from the Blair Collection.
Exhibition labels verso.
This work is illustrated in 'San Francisco and the Second Wave : The Blair Collection of Bay Area Abstract Expressionism', pages 132 and 133.
Measures 16 x 20 inches sight size, and 17.5 x 22.5 x 2 inches overall.
Click on price to purchase or inquire.