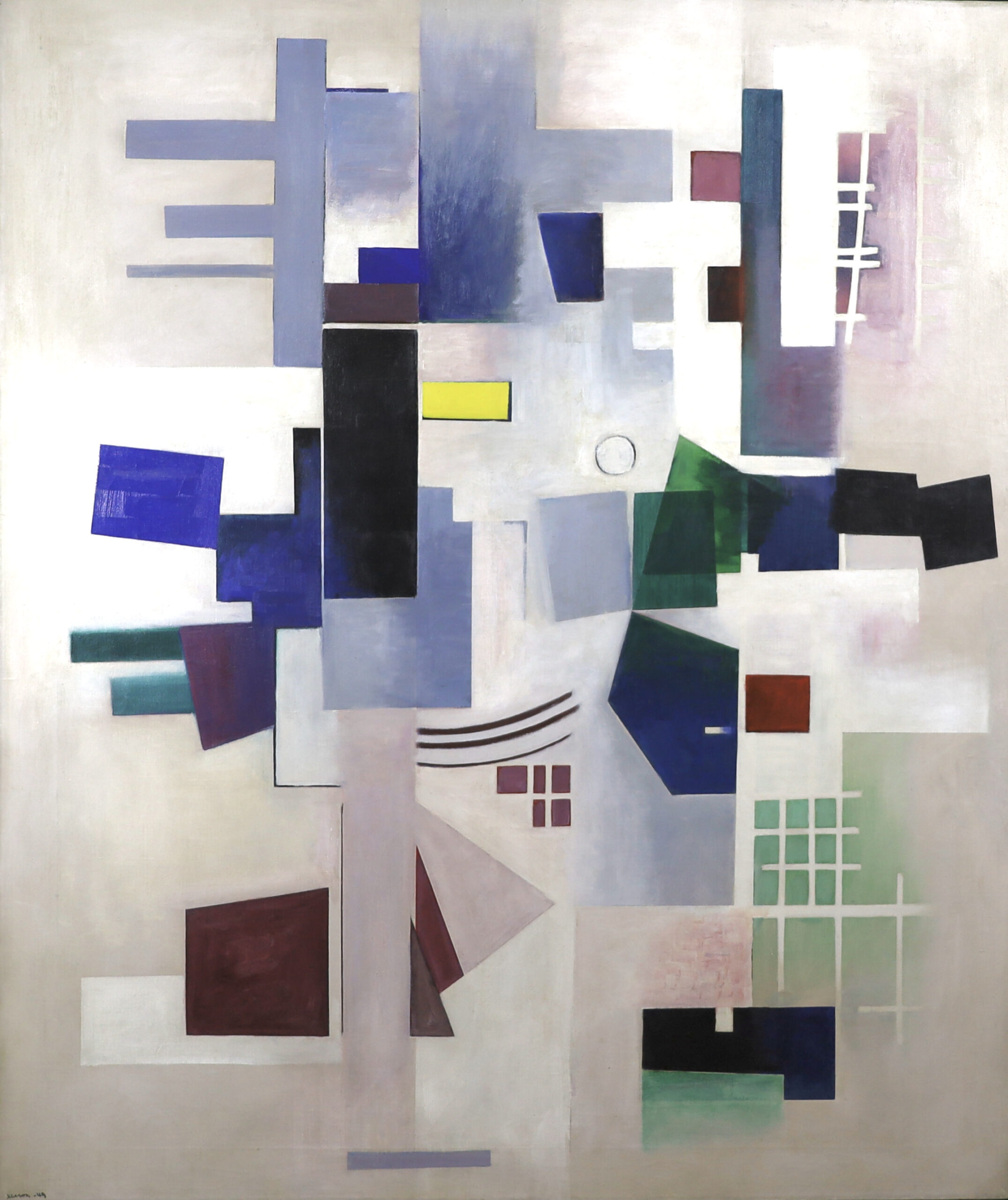 Jean Xceron - Exhibited oil painting - 1949
Jean Xceron – 'Variations No. 329' – 1949
Jean Xceron, (1890-1967), is heralded as a pioneer of non-objective painting by the Smithsonian Archives of American Art and Xceron was a wildly successful American modernist artist during his lifetime.
Xceron was a Greek-born American artist and writer.  He was born in Isary, Greece, and immigrated to the US in 1904 at the age of fourteen.
Xceron began his studies in art at the Corcoran School in Washington DC in 1911.  In 1912 Xceron moved to New York City and became heavily involved in the budding modern art scene there.  He was painting abstract works by 1916.  In 1927 Xceron moved to Paris, France to further his studies in art.  He remained in Paris for 10 years studying, building relationships with European avant garde, including Fernand Leger and Piet Mondrian, and writing about art exhibitions in Europe for American periodicals.
Xceron exhibited at many leading venues of his time and was a member of many early modern art groups including involvement with the artists around Alfred Stieglitz Group and Gallery 291, the Society of Independent Artists, and the American Abstract Artists.
His works are held in institutions around the world.
This work is a monumental work by Xceron, and was exhibited all over the world including:
Rose Fried Gallery, in New York, 'Jean Xceron, Selection Paintings 1929-1962', April 16 – May 19, 1962 (listed in the exhibition catalog);
The Solomon R, Guggenheim Museum, Jean Xceron, September-October 1965, no. 36 (cataloged, p. 19 and illustrated in the exhibition catalog);
The Rhode Island School of Design, Museum of Art, The Solomon R, Guggenheim Museum 1966 Circulating Exhibition, April 1 – May 1, 1966;
The Zappeion Hall in Athens, Greece, Jean Xceron, October 1966, no. 36 (cataloged and illustrated in the exhibition catalog).;
and at Snyder Fine Art, The Museum of Non-Objective Painting, American Abstract Art, March 21 – May 11, 1966.
Numerous exhibition labels verso.
Measures approximately 50 x 42 inches.
Click on price to purchase or inquire.