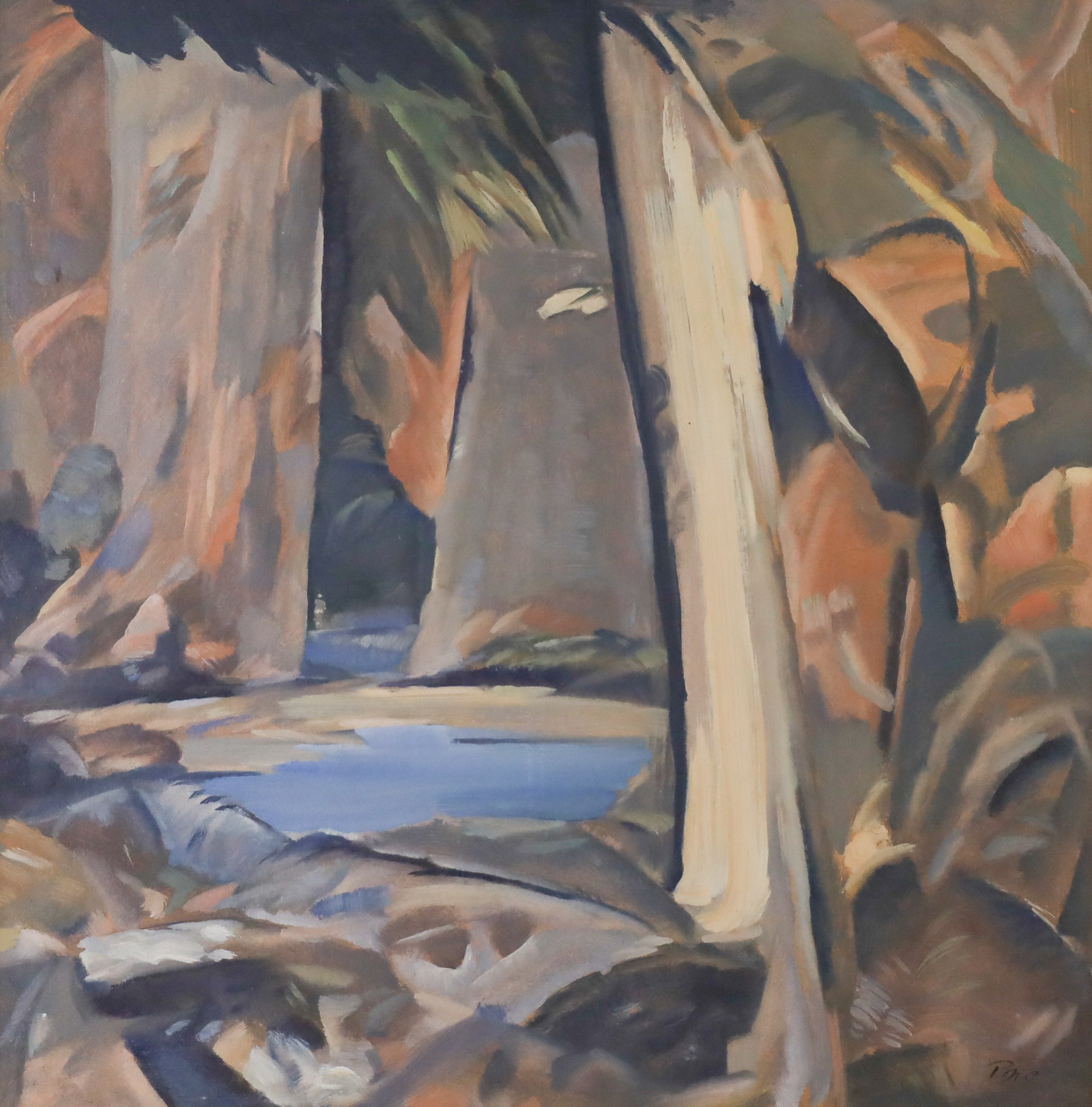 Peter Camfferman - 1930s
Abstract forest scene by Pacific Northwest modernist Peter Marienus Camfferman.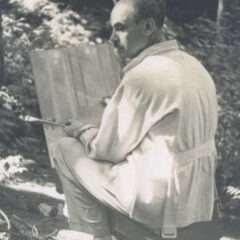 Peter Camfferman, 1890-1957, was born in The Hague, Holland, and emigrated to the US at a young age.  He studied at the Minneapolis School of Fine Art where he met his future wife, Margaret Gove Camfferman.
Peter and Margaret traveled, created art, and studied together, including studying with French modernist Andre L'hote in Paris.  The Camffermans married in 1914, and in 1915 moved to Langley, Washington on Whidbey Island where they built a home they called Brackenwood.  Peter and Margaret built the buildings and furniture at Brackenwood by hand, sometimes using driftwood they gathered to make the furniture.  The Camffermans continually added on to Brackenwood, eventually creating 8 cabins for visiting artists.  Brackenwood became known as Brackenwood Art Colony.
Brackenwood became the cultural center of the area, which had previously been known as a backwood area rife with drinking, gambling, and fighting.  Peter and Margaret taught art classes at their art colony and hosted other avant-garde artists of the time to teach at Brackenwood, including Mark Tobey, Alexander Archipenko, Kenneth Callahan, Morris Graves, and Amedee Ozenfant.  The Camffermans lived in Langley for the remainder of their lives, with the exception of a year in New York City, 1925-1926.
Both Peter and Margaret were members of Seattle's Group of Twelve, a group of Northwest artists whose focus was on modern art in a time when the trend in the area was toward traditional academic works.  Peter was also a member of the Puget Sound Group of Northwest Artists. Both Peter And Margaret were highly regarded within the regional art community and recognized as avant-garde among their modernist peers.  Together they created art for the Public Work Projects Administration and had works exhibited at the Seattle Art Museum, the Golden Gate International Exhibition in San Francisco, CA, the San Francisco Art Museum, the Palace of the Legion of Honor in San Francisco, CA,  the Museum of Modern Art in New York, and in Smithsonian traveling art exhibitions.
This work depicts a forest interior with a figure, and was created in the 1930s.
Oil on artist's board.
Measures 35″ x 35″ x 2″  overall including framing.
Click on price to purchase or inquire.