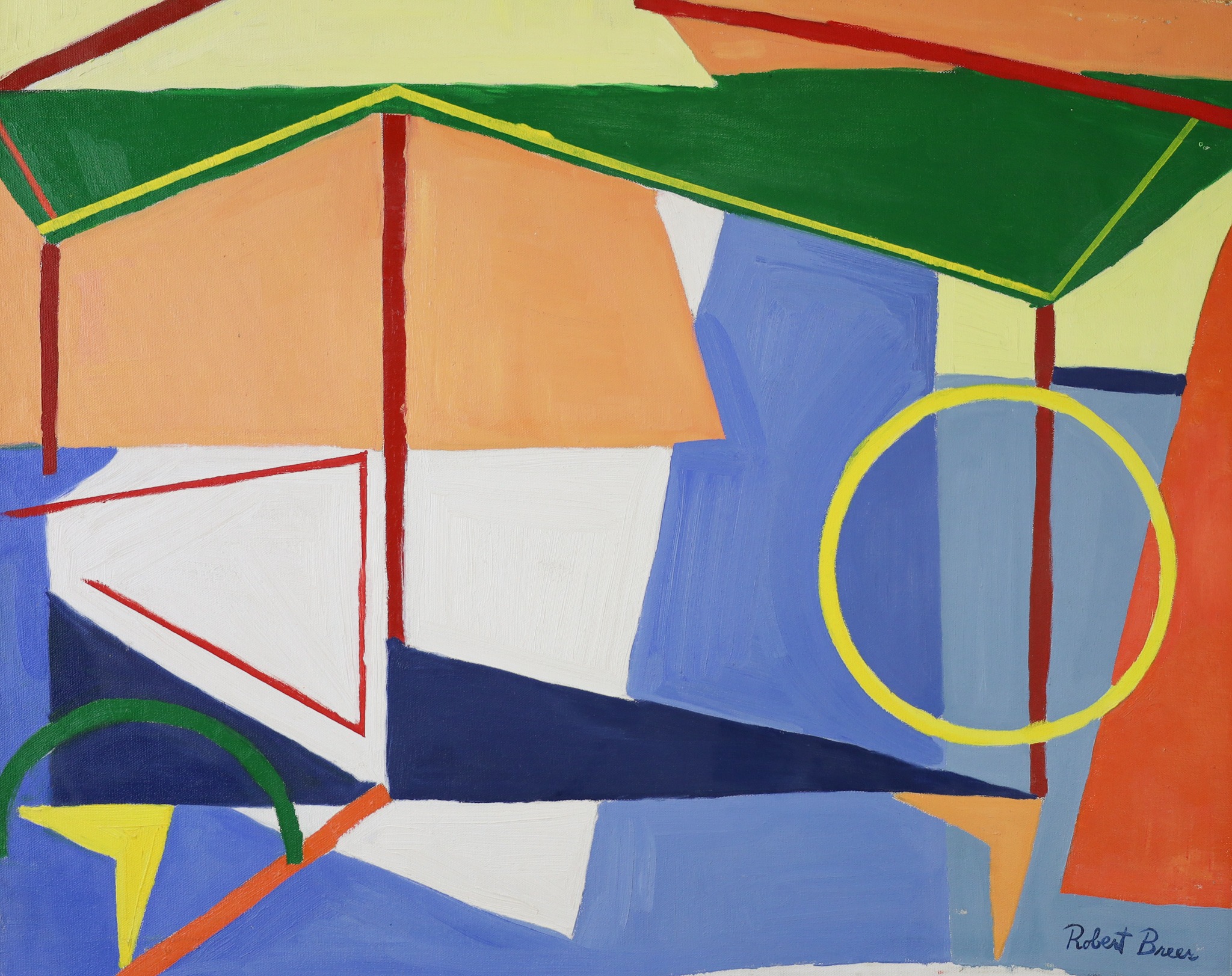 Robert Breer - c.1960
Abstract oil painting on canvas by Robert Breer.
Robert Carlton Breer, 1926-2011, was an American avant-garde painter and filmmaker.
Breer was born in Detroit, Michigan.  He moved to California in the 1940s and earned a Bachelor of Arts degree from Stanford University.  Breer then sailed to France where he studied and exhibited in Paris.  In Paris, in the 1950s Breer was painting large-scale geometric abstract paintings and exhibiting them at the Denise René Gallery when began creating flip-up books and short films.  His films were included in the Denise René Gallery's 1955 exhibition 'Le Mouvement', an influential show that put kinetic art on the map by showcasing the motion-conscious work of artists Marcel Duchamp, Alexander Calder, Jean Tinguely, and Victor Vasarely.
Breer used novel techniques that opened a new language for film, and he is known as was an important pioneer in animation and short-form filmmaking.  In a short film Breer created in 1954 titled 'Un Miracle' the pope appears on a balcony and begins juggling balls when suddenly his head falls off, and he juggles his head too.  A similar scene appears years later in Monty Python's Flying Circus.
Breer returned to the United States in 1959, and soon after encountered other avant-garde filmmakers including Stan Brakhage, Kenneth Anger, and Jonas Mekas, who were developing new ideas in American cinema.  Around this time Breer also began collaborating with American Pop artists including Claes Oldenburg, and with leading figures involved in multimedia art, performance art, and art happenings.
Throughout his life, Breer continued to paint and create experimental films.  He also taught film at Cooper Union in New York City for over 30 years.
This work is an oil on stretched canvas, it is untitled, and has some scuffing and small areas of paint loss.
Housed in a new frame.
Measures 25.5 inches by 31.5 inches by 2 inches overall including the framing.
Click on price to purchase or inquire.