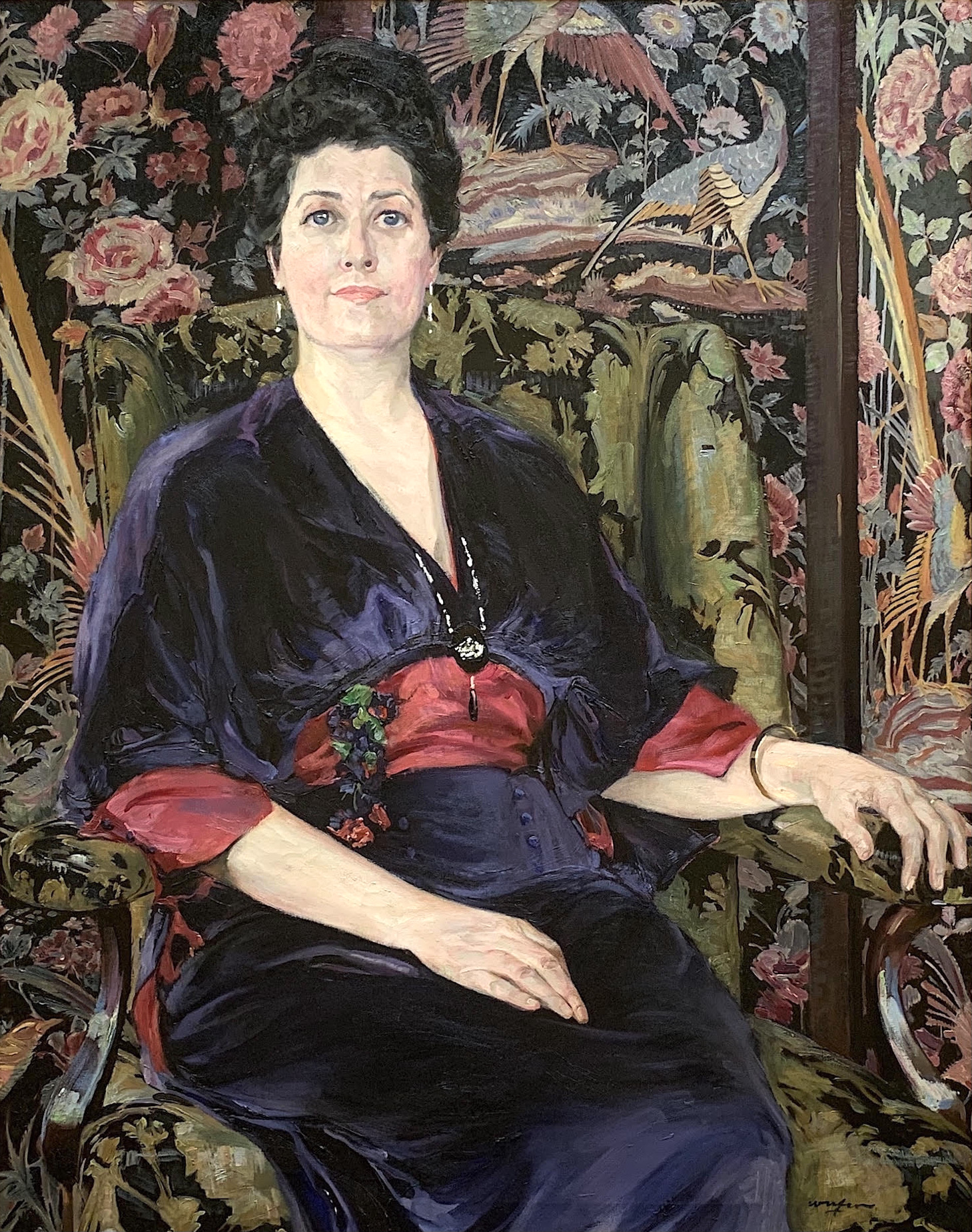 Walter Ufer - Portrait Painting
Portrait of Mrs. Harriet Sullivan Wardrop by Walter Ufer.
Walter Ufer, (1876-1936), was a highly regarded American Southwest painter lauded for his depictions of the bucolic lifestyles of the native peoples of the Taos region of New Mexico and the portraits he painted of his many affluent clients.
Ufer grew up in Louisville, Kentucky, the son of a master gunsmith. As a young artist in Chicago, he found a powerful benefactor in the mayor, Carter Harrison.
Harrison, along with his friend, meat-packing tycoon Oscar Mayer, financed Ufer to take a painting trip south to Taos.
Ufer loved the landscape in the Southwest and the lighting made for great subject matter, but it was the natives of the area that drew Ufer's attention.  Ufer admired the Pueblo culture and chose it for the subject of many of his paintings.  While in Taos Ufer founded the Taos Society of Artists, and in his spare time he assisted the only doctor in Taos with treating the ill in the area.
Ufer knew where his bread was buttered, and often painted portraits for wealthy clients, one of which was Mrs. Harriet Wardrop.
Mrs. Walter Wardrop (Harriet Sullivan Wardrop) was born in Chicago in 1872 to Irish immigrants. In 1895 she married Walter Wardrop, who began his career in the bicycle industry and eventually became a publisher and authority on commercial vehicles in the early days of motoring.
This painting is the second portrait of Mrs. Wardrop by Ufer and was completed in 1918, for a fee of $250. The first portrait of Mrs. Wardrop was shown at the 1916 Exhibition of the Palette & Chisel Club at the Art Institute of Chicago.
This elaborate portrait with a lavish backdrop is signed 'W. Ufer' lower right, and is housed in a hand-carved, gold gilt contemporary frame carved by Shawn Speck.
Measures 46.5 x 36.5 inches sight size, and 55 x 45 inches overall includig frame.